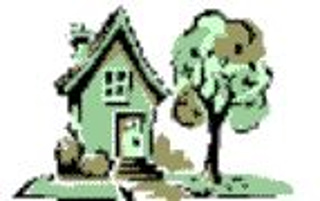 Macro moths: M-O
MACRO MOTHS
Now here is a rarity, a moth, the caterpillar and even the pupa, all with similar colouring.
Even so, while the specimens shown represent the norm, there can be quite some variation in the patterning of the moth ranging from almost completely black to almost all white. But, the marking is always crisp. In a related species, the Clouded magpie, the markings are always smudged and not so prominent.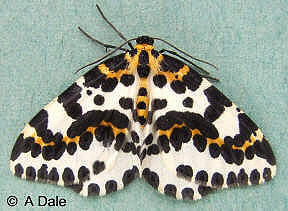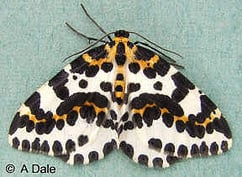 The single generation flies from late June to August and is now widespread throughout the UK. Until recently, it was regarded as scarce in the Northern Isles but is now well established in Orkney.
Larva on a bramble leaf growing in a hawthorn hedge.
Adult moth disturbed from hawthorn hedge at 17.00hrs
Attracted to lighted window.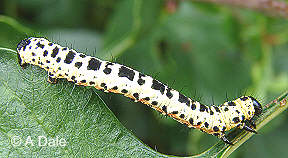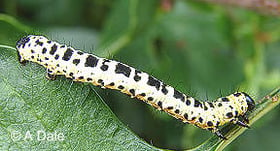 The caterpillar has a wide range of food plants - Hawthorn, Blackthorn, privet, currant, bramble and gooseberry and even heather in the north. So it is just as likely to be found in domestic gardens as in the wild.
In common with all other insect caterpillars the larva has six 'proper' thoracic legs at the front - but only one pair of prolegs in front of its claspers at the rear. This means that while the majority of caterpillars move with a rippling action, this is one of the looper action group.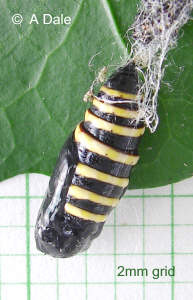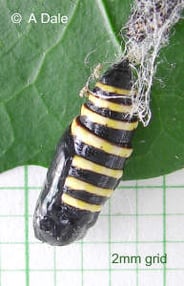 It pupates in a flimsy cocoon on or close to the foodlpant - the one seen here was found attached to the back of an Ivy leaf within a Hawthorn hedge. The pupae of many species tend to darken with age and lose their initial crisp sheen but, this one retained its fresh appearance through to emergence of the adult moth.
3 adults on hawthorn hedge, one obseved to lay four eggs.
Pupa found in Hawthorn hedge.
Adult moth hatched from pupa (above) and released back to 'home' hedge.
Attracted to lighted window.
This is another of the easier moths to identify. It's long triangular forewings can be up to 22mm long and they have a characteristically slightly hooked tip.
The wing coloration is in four distinct bands, each separated by a thin white line and there is a faint white zigzag line close to the trailing edge. There is little variation between specimens.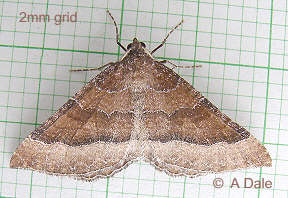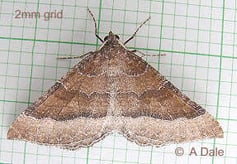 The single generation flight period is from September to November. Although it is classed as common (in distribution throughout southern England), it is not seen in large numbers. When seen at all, it is usually attracted to light.
It over winters as an egg. The larvae feed on mallows (as the common name suggests) from April to June.
The Marbled Beauty is a single generation species flying during July and August. It is common throughout the UK. It is attracted to light and will often be found indoors or by illuminated windows.
Indoors, on the net curtains.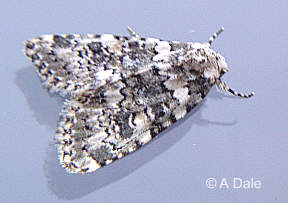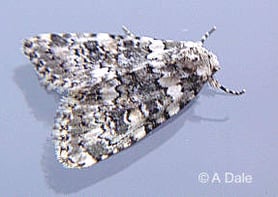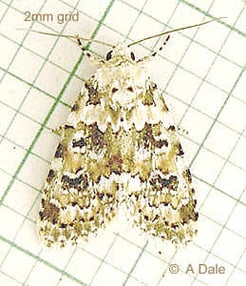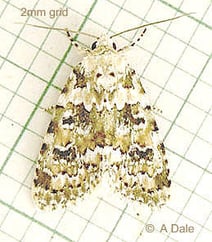 In my location the grey and white form is by far the most common. But, occasionally, the orange and white form turns up and fully justifies it's 'common name' of the Marbled Beauty.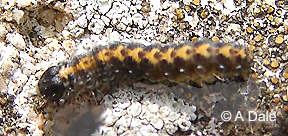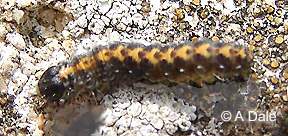 Resting in broad daylight on garage wall.
An early season flier resting on a window pane at dusk.
Attracted to lighted window.
Larva found at base of Horse Chestnut tree.
The distinctive larvae (there is nothing similar to confuse them with) are to be found from September to mid May. They grow to a length of 25mm and are somewhat unusual in that they feed on rock and tree growing lichens. The one seen on the right was found, hedging its bets, on a lichen clad clay tile at the foot of a Horse Chestnut tree.
Good numbers of them flying throughout August.
Moth resting on north facing wall at 17.00hrs.
With a forewing length of from 12mm to 14mm, this is quite a small moth.
Orange form attracted to light.
Pale form at rest on garage wall for six daylight hours.
Attracted to lighted window.
There are two forms of the May Highflyer; a pale grey version with an off white band running across the wings and a much darker form H. i. obsoletaria, with dark grey wings and indistinct markings. The latter is most often found in the London area whereas the paler version is to be found within the UK as far north as the Orkney Isles.
The single generation flies from May to July. The larvae feed, from July to November, solely on Alder and this means that populations will be localised to those areas where Alder is found. Even in Lincolnshire which boasts a fair number of Alder 'carrs', the species is not regarded as 'common'.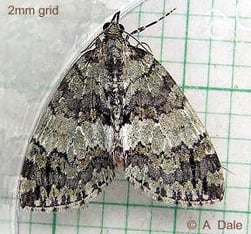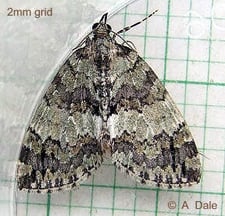 The larvae feed at night and rest during the day, hidden from view between leaves spun together with silk threads.They will pupate in November, usually in cracks in the Alder bark, to emerge as adult moths in the following May.
Attracted to lighted window.
Oligia fasciuncula is a rather striking orange/brown moth with more distictive markings than seen here but I have it on good authority that this image is representative of the pallida form of the Middle-barred Minors.
Quite small, with a forewing length of about 12mm, it flies from June to July and is quite commonly seen day flying and supping nectar.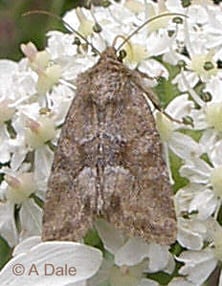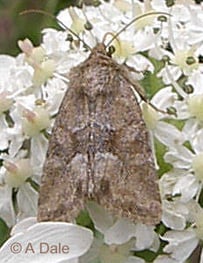 The small larvae feed primarily on Tufted Hairgrass and continue to feed at night throughout the winter, sheltering within the leaf sheath by day and the worst of the winter weather.
It pupates at the base of the foodplant during the month of May.
Three on Hogweed flowers.
Acronicta leporina f. grisea
I first saw this moth on the outside of a lighted window. As I moved closer to inspect it, it dropped to the ground onto a grey paving slab - where it was completely invisible. I only spotted it again when it fluttered. There are two other variations, an almost pure white form is found locally in Scotland and a darker grey form occurs in the English northern and midland counties.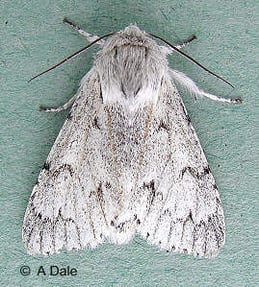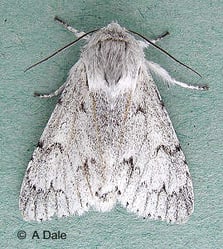 The single generation flies from May to August and it has a forewing length of about 20mm.
The larvae feed from July to October on Birch, Alder, Grey Willow and Aspens and on maturing, prefer to pupate by burrowing into rotten wood.
Attracted to lighted window.
The Mother Shipton is named after an old Yorkshire witch because of the caricature of an old hag's hooked nose, piercing eye and pointed chin that can be seen (if you use your imagination) on the moth's forewing. With a forewing length of about 15mm it is not a large moth but, whether you can see the likeness or not, it is unmistakeable because of its unique markings.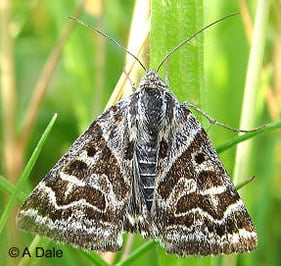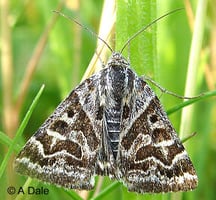 It is a day-flying moth, on the wing from May to July in the UK but with two generations in continental Europe. Curiously, it is not common in the Channel Islands.
The larvae feed from July to September on a wide range of clovers and trefoils and also Cock's-foot grass.
Found mid-afternoon in bright sunshine on Protected Roadside Verge.
Found in bright evening sunshine in hay meadow.
A moth that lives up to it's name is the Early Moth. In 2008 it was the first macro moth of the year to visit us. It is a single generation flier, the males being on the wing in January and February. The females have tiny little squared off wings and are incapable of flight. They just sit around on bare twigs and wait for the males to find them.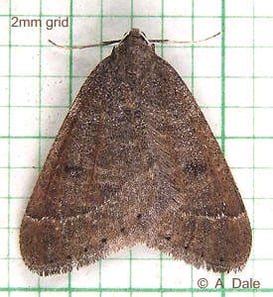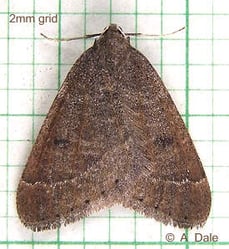 The species is well distributed in the UK as far as southern Scotland. But, because of its early season, is not as well recorded as it might be.
The favoured larval foodplants are Blackthorn and Hawthorn and it is on these bare winter hedges that you will have the best chance of seeing the adults - if you are prepared to prowl the hedges by torchlight. The 15mm males can usually be found from 19.00 to 01.00hrs. But the 10mm females coyly wait until about 22.00hrs before making themselves 'available'.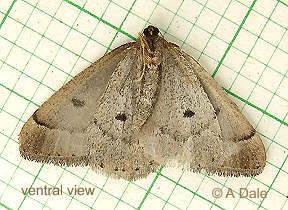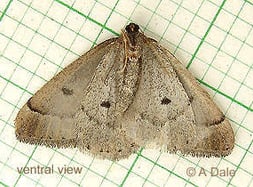 The male moths tend to feign death when disturbed and in the lower image this enabled me to get a shot of the underside of a different specimen. The coloration is rather bland but it reveals that the hind wings, which are also pale on top, also carry central spots.
The larvae feed from April to May and then enter a long pupal state just below ground until the adults hatch in January and the females make the long climb up to an appropriate courting vantage point.
Attracted to lighted kitchen window at 21.00hrs.
Flew indoors, attracted to light.
The male's forewings can be quite plain with just the two prominent dots and faint cross lines. In some areas of south-east England care is necessary in identifying late specimens because the Sloe Carpet moth which also favours Blackthorn, flies in March and April - and can look very similar although it tends to have rather more pointed wings and is rarer.
This colourful moth characteristically holds its wings in the closed upright fashion of butterflies.
There are usually two generations a year. The upper image is of a first generation specimen found in early April, the markings being rather better defined and the coloration rather more contrasting.
Attracted to light at the open backdoor.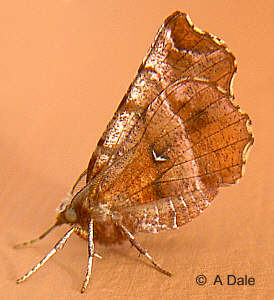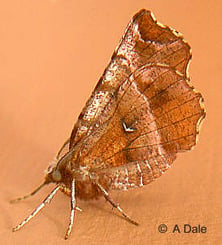 Attracted to light at the open backdoor - again.
Attracted to lighted window.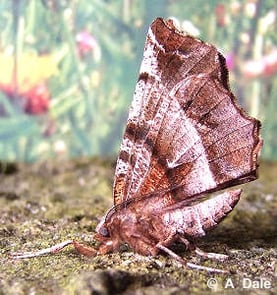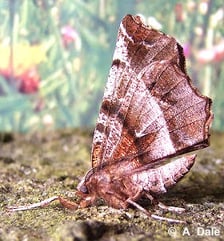 Forewing length can range from 14mm to 23mm, depending on generation and gender, males of the 2nd generation tending to be the smaller and females of the 1st generation tending to be the larger. It is widely distributed across the UK, being found as far north as the Orkney Isles, in both rural and urban areas.
The larvae feed on Blackthorn, Hawthorn, Hazel, Birch, Sallows and Honeysuckle. Overwintering larvae will pupate in leaf litter beneath the food plant but the summer larvae pupate in cocoons spun between the growing leaves of the plant.
The lower image is of second generation individual found in July. The second generation is generally of a smaller size than the first and is of a lighter, softer coloration - although there can be quite a variation between individuals.
These images are of males. It is just about possible to see their strongly feathered antennae used to help locate the pheromones given off by the females. The females tend to be rather greyer in colour.
Attracted to light at the open backdoor - again.
Attracted to lighted window.
Attracted to lighted window.
Attracted to lighted window.
Attracted to lighted window.
Zanclognatha tarsipennalis
This is a small triangular shaped moth, its forewing only measuring about 15mm and at first glance it appeared to be a non-descript brown.
But, the straight line running across the trailing edge of the wings marked it out as something slightly different and closer inspection revealed the faint crescents and 'question mark' lines which identify the species.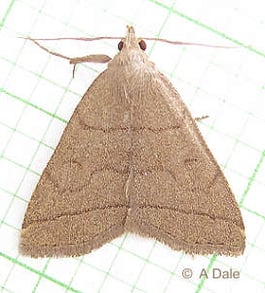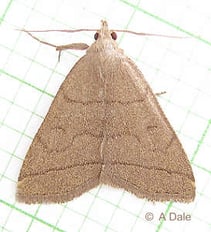 It frequents broadleafed woodland and dense hedgerows wherein the larvae feed on the fallen withered leaves of oak, beech and bramble.
The single generation flies from June to August and is widely distributed in southern Britain, but less so in the north.
Attracted to light, flew indoors and immediately settled high up in the corner of two walls.
Attracted to light, flew indoors.
Attracted to lighted window.
The upper image is of a male, recocgnised by the feathered antennae - an aid to pheromone locating the female (lower image).
There can be quite a colour variation in this species, from a light creamy brown to rich russet.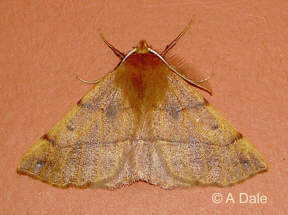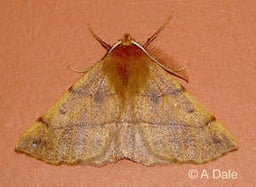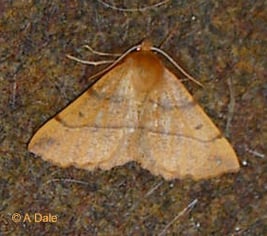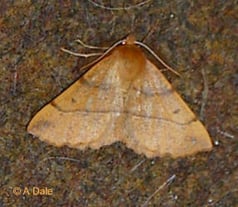 In spring, the long, thin, 'looper' like caterpillars feed on a variety of deciduous trees and shrubs, eg Quercus, Salix, Pyrus, Malus, Sorbus, Prunus, and Acer.
Male and female followed each other in the back door.
Male found inside back door late at night.
The Feathered Thorn is quite commonly distributed in Britain, though more locally in Scotland. The single generation flies in the autumn, from September to November.
This is a very common moth and, despite variations in colour intensity, it is easily recognised by the creamy white streak on the leading edge of the forewings. The orbicular and reniform stigma (the pale, oval and kidney shaped marks sometimes quite difficult to identify on other moths) stand out quite clearly.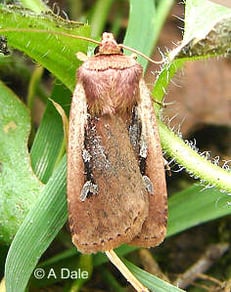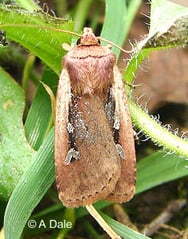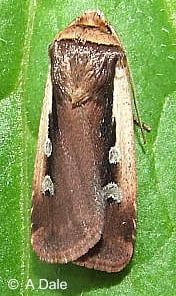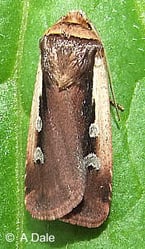 Colour intensity is related to age. Newly emerged from pupation the wings are a dark walnut brown in sharp contrast with the pale leading edge stripe. With time the dark brown mellows and reveals subtle shades.
Pupation takes place in the soil. The 13mm pupa shown in the lower image was found in an open grassy hay meadow just below the surface in fine grained soil.
A slightly larger, slimmer and darker relative, Ochropleura leucogaster, whilst common in continental Europe, is a rare visitor to southern counties of the UK.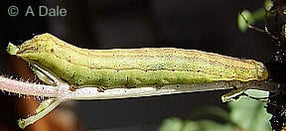 The caterpillars feed on a wide range of herbaceous plants including dock and plantain. And the larva in the adjacent image, found under a Hawthorn hedge when only 12mm long, after feeding quite happily on Ground Ivy and Dead Nettle, grew to 32mm within 12 days. Feeding takes place at night and the larvae rest at the base of the food plant during the day, characteristically in a head down position (the image having been rotated through 90 degrees).
12mm caterpillar found under Hawthorn hedge.
On a diet of Ground Ivy and White Dead Nettle the same larva now measures 32mm.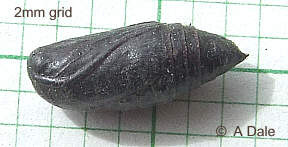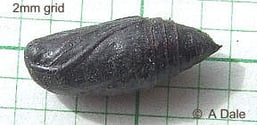 Very dark 13mm pupa found just below soil level in a grassy field.
Moth emerged from pupation.
Moth found apparently just emerged from pupation.
Moths attracted to light.
The second image is of a one day old moth. Over time the colour then gradually fades and an old moth can look quite washed out but, still retains the characteristic pale leading edge to the wings.
The moths are to be found from April to September in Southern UK with numbers peaking in May/June and August due to two generations. Further north a single generation flies from late May to July.
The Flounced Rustic is another species which can be quite variable in colour but consistent in its markings. The images show a mid-range form and a dark form. But pale straw - and intermediate versions, may also be found.
In coastal areas, further confusion can arise where the similar very variable Sandhill Rustic species is also to be found.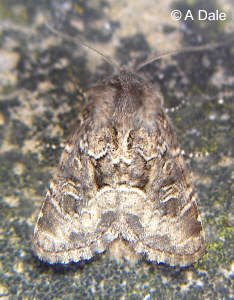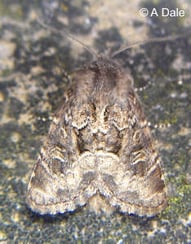 The single generation flies during August and September and is frequently attracted to light.
Being a late season moth, larvae may not hatch until September or October and will feed, weather permitting, throughout the winter. Extreme cold will induce a period of dormancy.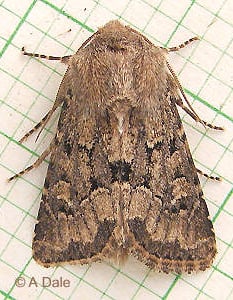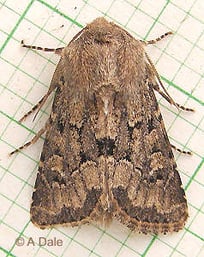 At rest on patio paving slabs.
Flew indoors, attracted to light.
The larvae feed on the roots and stems of Common Couch, fescue grasses and sometimes cereals and spend much of their time underground where they will over-winter.
This subterranean existence results in a very pale almost colourless caterpillar. Pupation occurs in the leaf litter.
The placing of the tiny black dots on the wing is a constant and diagnostic feature - one near the leading edge and one near the trailing edge. Although, as the wings are invariably overlapped at rest, only three dots may be visible.
There is another form, f. flava, that has uniformly dull yellow wings - with the four dots. And there is a much larger yellow winged species, the Four-spotted Footman, Lithosa quadra, that has significantly larger spots.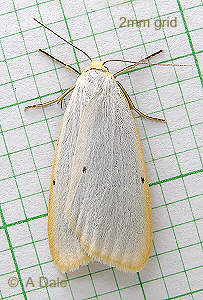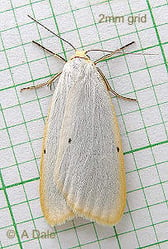 This species is more widely found in southern UK and is very localised on the UK islands.
The single generation flies from May to August and the larvae feed on lichens and algae growing on the woody stems of heather, sallows and the like.
Attracted to lighted window.
The Frosted orange is one of the more consistent moths. Variation is slight. So, with its clearly defined markings, it is one of the easier ones to identify. And, to make it easier still, when disturbed the moth will often feign death, tuck its legs up and lay perfecly still, then crawl slowly off into cover.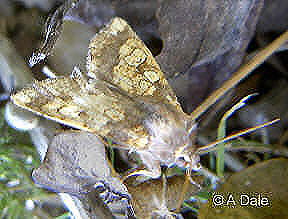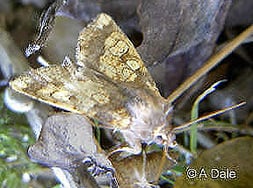 The single generation flies quite late in the year, from August to October and autumn laid eggs will overwinter and hatch in April.
The larvae feed inside the stems of strong growing plants such as Thistles, Burdocks and Foxgloves.
Found as it sought cover in grass bank in daylight.