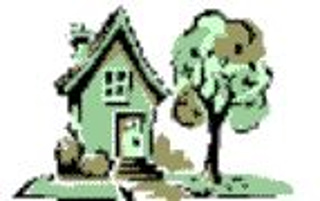 Macro moths: G-J
MACRO MOTHS
The Gem is a small immigrant moth from continental Europe that breeds sucessfully in the UK but cannot claim resident status because it does not survive the UK winter months and therefore depends on new immigrants arriving each year. That it has been found as far north as western Scotland is due to favourable southerly winds aiding the drift northwards of each of several successive generations during the course of a year.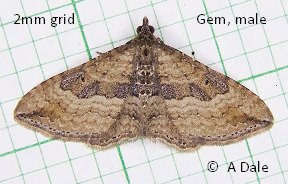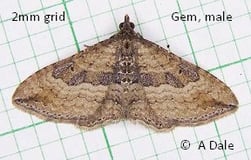 A female was found in east Lincs in late September that had just laid a batch of 32 eggs and it was seen that a complete life cycle from eggs being laid to the next generation of adults flying can be accomplished in around 60 days. So four generations a year is entirely possible.
All adults successfully hatched.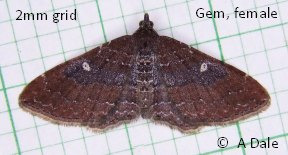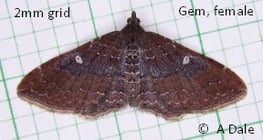 The larvae will feed on a wide range of plants from Chickweed, Groundsel to Dock. And it was observed that the larvae raised on Dock matured more quickly than those feeding on Chickweed.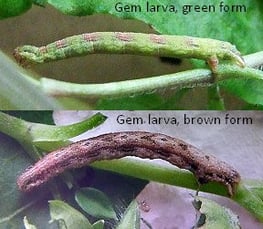 This species is sexually dimorphic, meaning that the male and female moths have very different wing coloration and markings. Newly hatched adult specimens are distinctively well marked and are relatively easy to identify but they tend to fade rather quickly which makes later attempts at identification more difficult. Forewing length is 11 - 14mm.
Although common throughout the UK from Cornwall to the Shetland Isles (with the exception of mountainous areas), the Ghost Moth is not seen as often as might be expected. The moths fly during the months of June and July. It is a grassland species and the common name is derived from the swirling courtship flights of the adults taking place at low levels above the grass sward at dusk. It is often attracted to light sources at ground level, barbeque lanterns, car lights, etc.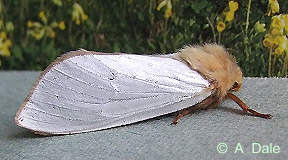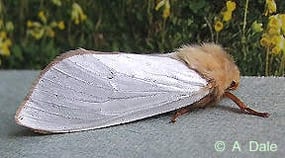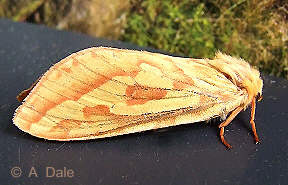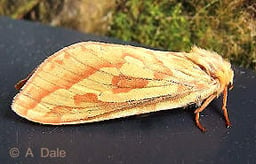 The female produces a large number of tiny black spherical eggs which are released in flight to fall over a widespread area of grass. Many moths have sticky eggs that adhere to twigs or leaves but the Ghost Moth eggs are like tiny smooth ball bearings that bounce off or roll down the blades of grass so that they come to rest at soil level.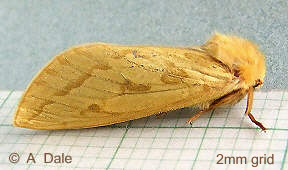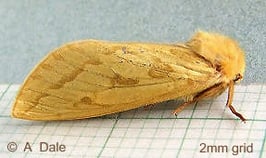 This is a truly dimorphic species, the males and females having quite different wing coloration. The male has pure white wings with a silky sheen, while the female has matt yellow wings with orange to pink markings when newly emerged, fading to a straw colour with pale brown markings as it matures.
Male found at rest on long grass in meadow at dusk.
Brightly coloured female attracted to light.
Male seen flying over meadow at dusk.
1male, 3 females attracted to light.
1 female attracted to light.
The larvae feed entirely on grass roots and are consequently rarely found. They, like many other underground feeders, are white with dark spots and so are well nigh impossible to positively identify.
Green-brindled Crescent moth
The Green-brindled Crescent is a striking moth. The dull metallic green markings, very like the patina seen on old copper or bronze, are unmistakable. At rest on lichen covered tree bark, it will be very well camouflaged. The 'crescent' reference in the common name is less obvious. It refers to the small white crescent shaped marks close to the forewing trailing edge, just beyond the dark cross band.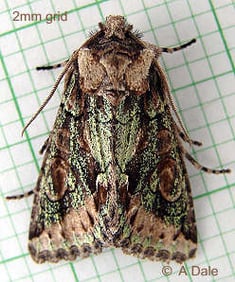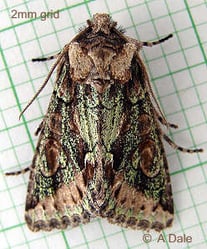 There is a darker form, that lacks the dusting of green wing scales, and that is more usually found in urban industrial areas.
It is a single generation species, flying from September to November, when it can be found at Ivy flowers and over-ripe fruit.
Eggs are laid singly on the twigs of the food plant late in the year and will not hatch until the Spring foliage breaks out.
The larvae feed from April to June on a wide range of plants including Hawthorn, Blackthorn, crab apple, dog rose and cotoneasters.
Attracted to light- and a frequent visitor throughout October.
An overwintered flyer from 2013 generation.
Isn't this magnificent? What a beauty. Unfortunately, the Green carpet only looks so stunning for a short time after hatching from the pupa. As it ages, so it starts to fade and the green coloration can become very washed out, as seen in the lower image. That said, the moth can still be identified by the distinctive arrangement of dark line and dot markings.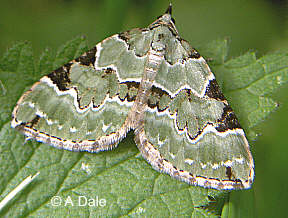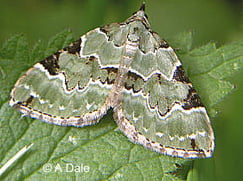 Whether by chance or design the moth appears to choose a background to suit its colouring. I must have walked past the moth in the upper image, half a dozen times before I spotted it against the jagged nettle leaves. The lower one I saw in flight before it it settled on ivy foliage but even then, against the shiny leaves, the camouflage proved very effective.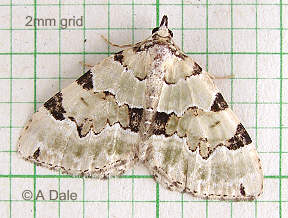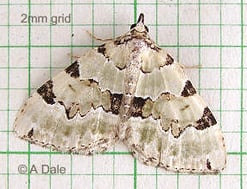 In southern Britain there are two generations a year (flying in May / June and August / September) and one in the north (flying in June / August).
The larval food plants include the bedstraw family and possibly white dead nettle.
Saw it in flight (13.06hrs) but had to hunt for it on the patio wall.
Found on nettles on a ditch side bank.
1 first generation moth attracted to light.
2nd generation, somewhat smaller, flying around patio.
Two flying by hawthorn hedge at 20.00hrs.
3 second generation moths attracted to light.
Faded specimen of first generation on ditch side vegetation.
Mid-coloured specimen of first generation seen on local bridleway.
Two generations attracted to light.
A newly hatched Green Pug is one of the easier Pugs to recognise. It can be dark green or bright green and has crisp markings but, as they age, the colouring becomes muddier and the camouflage becomes more effective.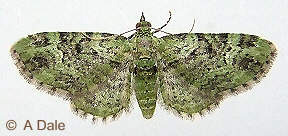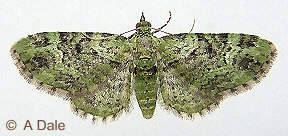 The single generation flies from June to early August. It favours lowland conditions, mainly in the south, becoming less widespread northwards to the Scottish lowlands.
Eggs laid in summer will overwinter and the larvae hatch to feed on the flowers of Apple, Pear, Cherry, Hawthorn and Blackthorn.
At rest on inside of garage door.
The Grey Dagger and the Dark Dagger moths are two very similar species, requiring dissection and knowledge in depth to differentiate between them.
That seems very drastic for my liking. I originally decided that the moth shown here was probably a Grey Dagger on the basis that the moth was found only 20 yards from where the truly distinctive caterpillar was found.
So, given that I had found a Grey Dagger larva and that the Grey Dagger is the more common of the two species the odds began to stack in favour of that being the appropriate species.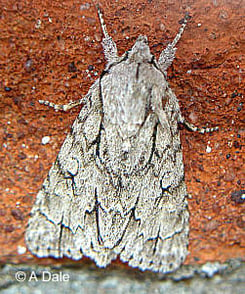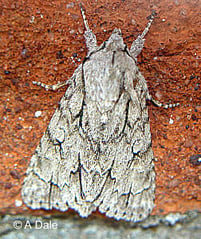 But, four years later, I then found the larvae of both the Grey Dagger and the Dark Dagger feeding on Hawthorn within 15cms of each other! So, not being able to now differentiate between the moths, I will in future have to be refer to them as Grey Dagger agg. - meaning that they are representative of the Grey Dagger aggregate group of similar species.
The lower image is of the Dark Dagger caterpillar. At 26mm long this was more mature and carried a shimmering coat of long hairs that may well distract or confuse would be predators - as well as being distateful.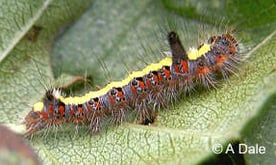 The Grey Dagger caterpillar in the second image, at only 18mm long, was in the early stages of development but still displays the prominent bright yellow band extending down the middle of its back. In the latter stages of development it would develop a white line down each side of the body giving it an even more striking appearance and at maturity it would double in size to 35 - 40mm in length.
Spent the entire day resting on the eastern side of the house porch.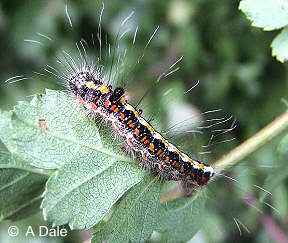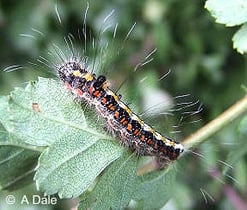 Larvae of both species found feeding together on Hawthorn hedging.
Found on Hawthorn hedge by side of house.
The larvae feed on Chestnut, Hawthorn, Blackthorn and fruit trees, all of which grow in the vicinity. So, it is hardly surprising that the moths are frequent visitors to the garden.
The Grey Dagger is rather more widely distributed throughout the UK and flies from May to August whereas the Dark Dagger's range tends to be restricted to the southern half of the UK and it has a slightly more restricted flight window through May and July. In suitable conditions a small second generation of both species may emerge in September and October.
The Hebrew Character moth is worth comparing against the Setaceous Hebrew Character.
This species is not quite as well marked as the other but exhibits the prominent dark mark on the leading edge of the forewing that is close approximation of the Hebrew alphabet character 'lamed' - which explains it's common name. There are several colour variations, ranging from creamy brown, through warm brown to dark brown.
Male came to light indoors.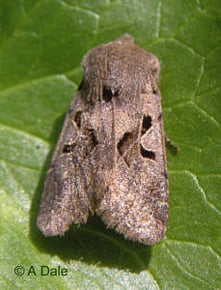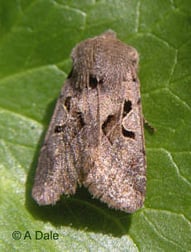 Came to light indoors late at night and sheltered from the cold for 4 days.
Cocoon and pupa found in soil under nettles.
Moths attracted to a lit window.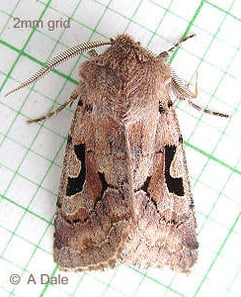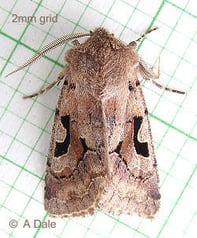 The attractive green and white caterpillars, feed on a diversely wide range of plants including oak, birch, hawthorn and sallow trees, as well as Meadowsweet and Common nettle - that is what the books say.
This mature specimen was found in the middle of a hay meadow in late June, feeding on the seed capsules of Common Sorrel, Rumex acetosa.
The second image is that of a female discretely hiding her simple antennae, who proved to be a surprisingly co-operative photographic model because when disturbed, instead of flying off, she feinged death and just rolled over. She then patiently allowed herself to be placed on a sunlit leaf while I did the business with the camera, before she moved to the shade and safety of the underside of the leaf.
Female hatched from pupa and was released.
Male came to light indoors.
Male came to lighted window.
First macro moth of 2009, male came to lighted window.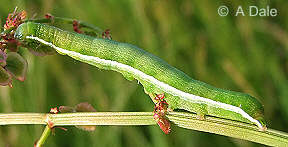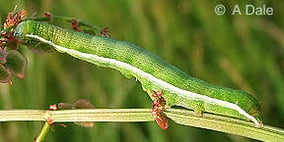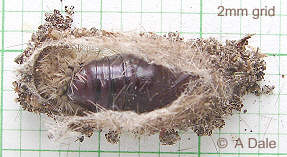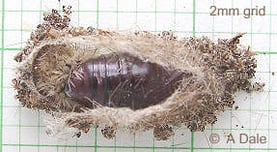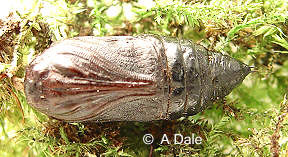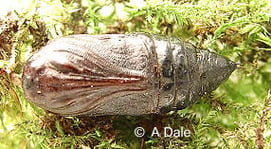 Towards the end of July, the larva will move to ground level and construct a silken cocoon in loose soil.
Soil particles adhere to the silken fibres and provide excellent camouflage.
A pupa is then formed inside the cocoon where it will remain until the adult emerges in March / April.
Mature caterpillar found on Common Sorrel.
First appearance in 2010.
Found 10 settled around a lit window.
The adults come readily to light, as did both of these. The upper image is that of a male, identified by the feathered antennae.
The species generally produces only one generation a year and the adults fly from late March to May - rather earlier than the Set. Heb. character. So although they may look confusingly similar, their flight times are a good indicator of species. However, ...... just to complicate matters, a few of this species may hatch in mild spells during late autumn and winter.
There should be no confusion identifying this moth. There is no other species quite like it in wing colour, pattern or shape. That said, its coloration can appear a little variable depending on lighting and the age of the moth.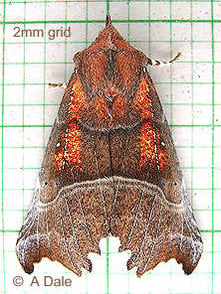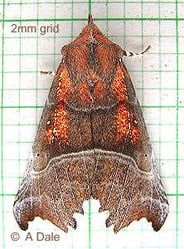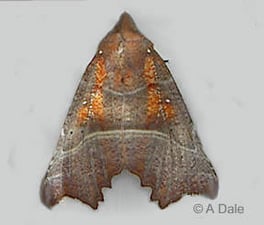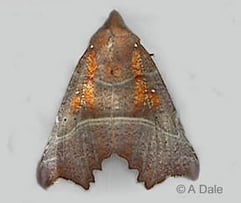 Whereas the adult moth is unique, the caterpillar is one of many green caterpillars. With experience it is possible to recognise the thin vague lines running down the length of the body and seeing it on one of its foodplants (willow, aspen or poplar) helps to narrow the identity options down.
Worn specimen found on bathroom windowsill.
Larva happily munching away on garden sallow leaves.
Adult attracted to lighted window.
Adult, newly emerged from a pupa that had been found earlier in leaf debris in a tuft of grass, released.
This is generally regarded as a single generation species, the adult being on the wing from late July / August to November, over wintering in sheltered places and re-emerging again from March to June, with larvae to be found May to August.
The upper image is of a crisp, pristine specimen recently emerged from pupation while the second image is of an elderly, rather worn specimen that has overwintered.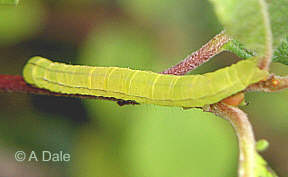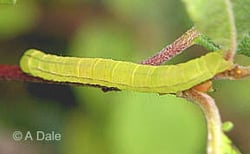 Perhaps yet another indication of global warming, here in Lincolnshire, I have found larvae feeding in early October. Given that the larvae pupate in the rolled leaves of their chosen foodplant, I suspect that the survival rate for this late generation may not be very good since the leaves will be falling to the ground within the month.
Although the Hummingbird Hawkmoth is not rare it always causes a bit of a stir when it visits the garden. I do not see it every year in the garden but it is probably more common than I give it credit for because it wastes no time flitting about. It does the rounds of its favourite flowers (Phlox, Honeysuckle, Petunia and Buddleia) feeding on the wing like the Hummingbird, and then it is gone.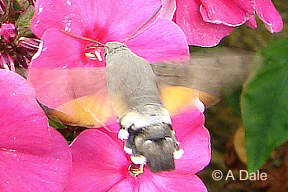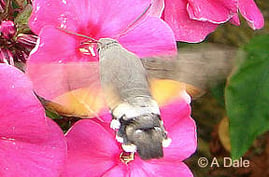 When it does rest, it can be very difficult to detect as it's camouflage blends very effectively with walls, banks and wooden fencing. Although not a unique feature, the tufts of feathery hair around the end of the abdomen are quite distinctive.
The majority of those seen will be migrants from the continent although it is reputed to over winter in the South-west UK.
It normally flies from May to late July but early migrants may breed and give rise to a local second generation flying in August and September. The larvae feed principally on the bedstraw family of plants.
On Phlox, Delphinium and Honeysuckle in back garden.
Two moths feeding exclusively on Delphinium - and ignoring Phlox.
There are three Highflyer species, the May, July and Ruddy Highflyers. All share a distinct family resemblance in having prominently shouldered wings. The July Highflyer comes in several different colour forms (brown, grey, lichen green, and cream) but the wing markings remain constant. In most cases, a small pale mark is seen midway along the outer edge of the wing.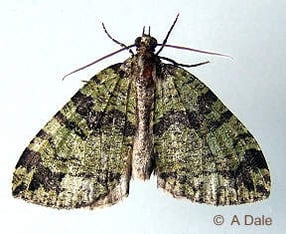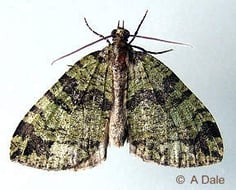 The July Highflyer is widespread throughout the UK and, as it's common name suggests, flies July / August in most of the UK although it's season may extend until October in northern Scotland. It favours wooded areas since the larvae are mainly tree feeders e.g., hazel and sallows but in the north it is also known to feed on heather.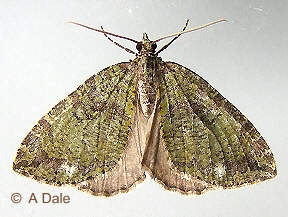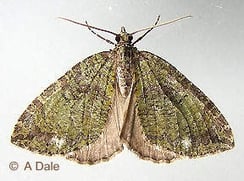 Attracted to lighted window.
Eggs are laid and overwinter on the foodplant. Caterpillars emerge in April, feeding at night and hiding between spun leaves during the day. Pupation takes place in leaf litter beneath the food plant.
Attracted to lighted window.
Attracted to lighted window.