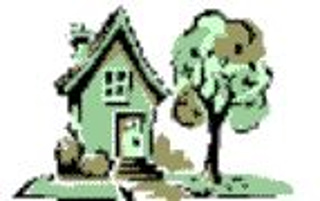 Macro moths: C
MACRO MOTHS
Canary-shouldered Thorn moth
As it's common name suggests, the prominent canary yellow hair of its thorax readily identifies this moth. Should there be any doubt, further positive identifying characteristics would be the manner in which it holds its wings half open - as opposed to the Early Thorn holding them upright and tightly closed and the Feathered Thorn holding them flat wide open.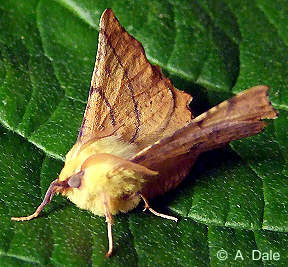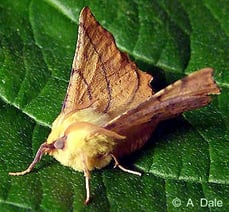 It is widely distributed throughout mainland UK and flies from late July to early October.
Eggs are laid on the larval foodplant, usually birch, alder, lime or elm and will overwinter on the bark.
When the tree returns to leaf, the larvae hatch beteen May and July, normally later in the north, and will eventually pupate in leaf litter and low vegetation under the food plant.
Attracted to lighted window.
Attracted to lighted window.
This is a tiny little macro moth, unusual and quite unique. It has a forewing length of only 9mm. It's size, resting position and coloration mimics a bird dropping and acts as very successful camouflage against hungry birds. Its markings and coloration remain remarkably consistent throughout the species.
Flew indoors, attracted to light and came to rest on the ceiling. 'What was a bird dropping doing on the ceiling?'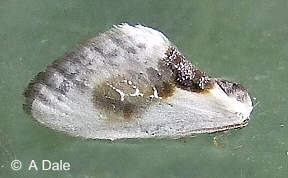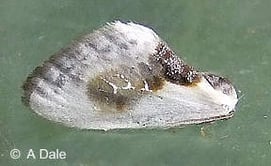 It belongs to the Drepanidae (Hook-tip) group of moths of which only six species are resident in the UK - and this one lacks hook tips to its wings! The wing markings are very delicate and precise.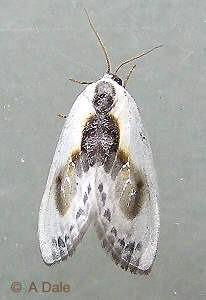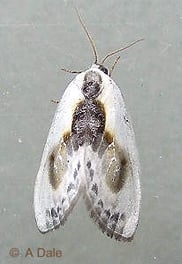 There are two generations per year, flying in May-June and then in August. (That is the theory. The late, warm summer of 2006 saw them flying throughout July.) It is widespread in England and Wales but quite localised in lowland Scotland, usually frequenting hedgerows and scrub.
The larvae feed on Hawthorn, Blackthorn and Bramble.
A second specimen found indoors.
Many individuals seen throughout the month.
Regular visitor to light.
The Cinnabar moth always strikes me as looking rather sinister with its stark black satin wings and red markings. The hind wings are the same vivid red and show up well in flight. All of which seemingly alerts birds and other would be predators that these moths are toxic. There is only one annual generation, and they fly for three months from mid-May through to mid-August.
Caterpillars, Benniworth Springs, small conservation pond.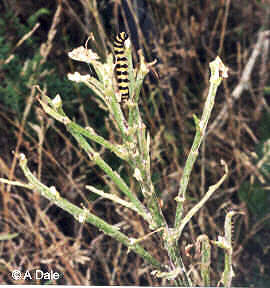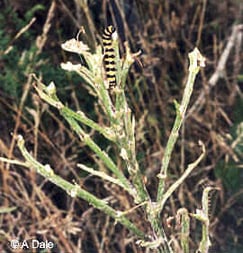 Moth in flight mid afternoon in north paddock.
Two moths in flight, late afternoon in north paddock.
Many, many caterpillars feeding on Ragwort at Whisby Nature Reserve.
Caterpillars feeding on Ragwort at Horncastle Community Woodland area.
Moths attracted to light.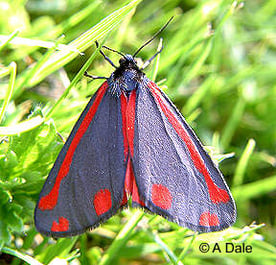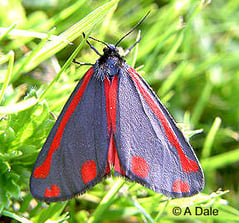 The equally easily recogniseable yellow and black banded caterpillars also flaunt their colours to warn birds that they are inedible.
The main foodplants of the caterpillars are ragwort and groundsel, both rich in alkaloid poisons. The larvae are immune to these toxins which are stored in their bodies and passed on through the pupa stage to the moth, making them the most poisonous moth species in Britain.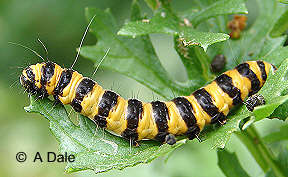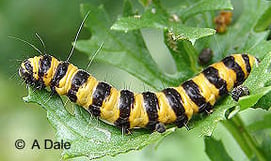 Since both adult and larvae have few predators, this should lead to huge larval populations but the caterpillars are so voracious that they tend to eat themselves out of a sustainable food supply. It is not uncommon to see patches of ragwort stripped bare (lower image) and caterpillars wandering around aimlessly looking for alternative sources. Therefore a large caterpillar population one year can lead to many not surviving to pupation due to a lack of sufficient food supply.
The larvae are feeding through the months of July to September and then pupate in a loose cocoon in leaf litter on the ground from September through the winter.
Since the poisons in ragwort are considered to be a danger to grazing animals, cinnabar caterpillars have been considered as a means of ragwort biological control.
The only other black and red moths with which it might be confused are the Burnet moths but, that long red streak on the leading edge of the forewing is a sure identifying feature.
Although the Clouded Border looks quite striking, it is a relatively small moth with a wingspan of only 22 - 28mm. The degree of pattern can vary quite a bit but, since there is nothing else quite like it, identification should present little problems.
Attracted to light, came to rest on ceiling.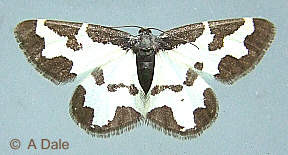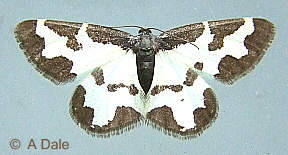 Attracted to lighted window.
It is classed as a common species, being found throughout the UK as far North as the Scottish highlands. In the warmer south, the single generation will fly from mid-May but generally, in the rest of the country, it is flying in June and July and is readily attracted to light.
Larvae can be found on Aspen, Poplar, Sallow and Willow from July to September. Pupation takes place below ground level.
Attracted to lighted window.
Apart from the varying degree of marking within the Clouded Silver species, generally speaking, this should be one of the easier moths to identify. The constant features are the forewing solitary black dot, the dark smudge inside it and dark flecks on the trailing edge near the corner. A solitary black dot on the hindwing is often obscured.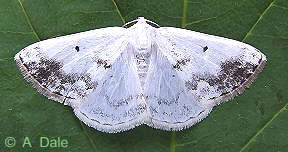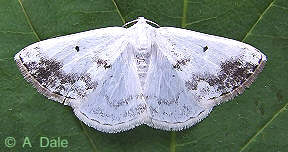 A single generation species flying from May to July.
Larvae, to be found on Hawthorn, Blackthorn, Plum, Cherry and Crab Apple from June to late August, will overwinter as pupae in ground litter.
Since the 1970s this species, then common only in the south of the UK, has seen a dramatic expansion in its range north and westwards and is now found in Argyleshire in western Scotland.
Basking in the full mid-afternoon sun against brickwork with no attempt at camouflage.
Again, basking in the full mid-afternoon sun with no attempt at camouflage.
There are two sub-species of the Common carpet. The one shown here (E. alternata alternata) is well distributed throughout the UK - with the exception of the Outer Hebrides, where the browner coloured E.a.obscurata is to be found.
Hay meadow western hedge.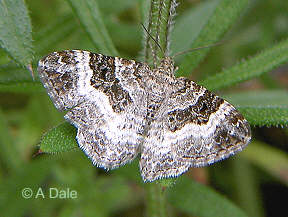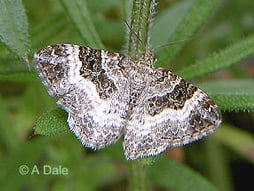 Many specimens with subtle colour variations have been seen - generally brown rather than grey.
In the south of England there may be three generations per year, resulting in the moth being seen continuously from May to October. Farther north, to Northumbria, will see two generations flying from May to June and July to September. And north of that will normally only have one generation flying in June to July.
The image does not show a typical resting position. Normally the forewings are swept further back almost covering the hind wings. It is found in a wide range of habitats with the larvae feeding on the bedstraw family of plants (e.g. Cleavers, seen in the image).
Attracted to light at night.
Hay meadow western hedge.
There are several species of Footman moths which get their name from the simple classic uniforms of the footmen traditionally employed by royalty and the nobility.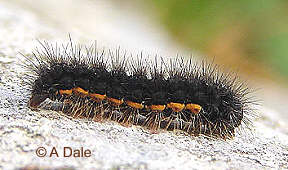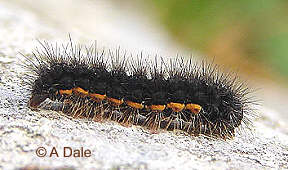 Some of the species need a good eye to positively identify them but, this is the classic Common Footman. It has the characteristic lead grey wings with a dull yellow leading edge which does not quite extend to the gently curved wingtip.
It is a single generation species, flying from June to August and quite commonly comes to light in good numbers.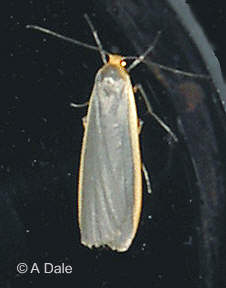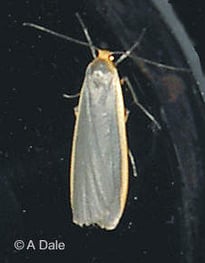 12mm larva found in same location as the 2006 find under a piece of fallen Chestnut tree bark.
The larva overwinters from August to late May, eventually growing to about 25mm.
Larva found under lichen clad clay tile.
Attracted to light but not as common as previously.
Indoors, attracted to light.
Larval foodplants are lichens and algae growing on trees and stone. But it will also feed on leaves of Hawthorn, Blackthorn and Bramble.
Common Marbled Carpet moth
This is another species that is subject to some variation. The most frequent of the forms I see in Lincolnshire is, fortunately, like the upper image and readily recognisable. But a significant number lack the central light coloured patch and present a more uniform greyish marrbled appearance that requires more careful scrutiny.
Attracted to lighted window.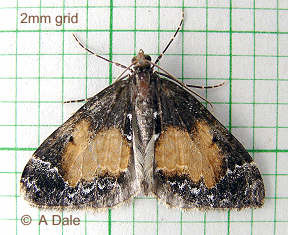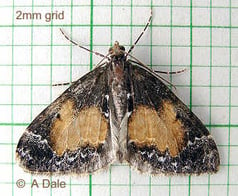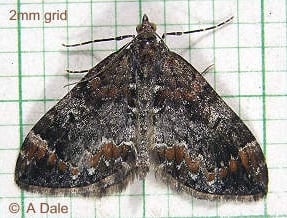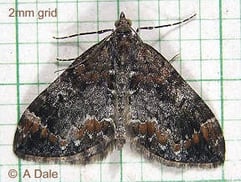 It is widespread and considered common throughout the UK, with the possible exception of Shetland.
This is a two generation species in most of the UK, flying in May and June and again from late August until early October. In highland Scotland and in Ireland, a single generation flies in July and August.
The transition from caterpillar to pupa, the pre-pupal stage, takes 5 or 6 days and sees some dramatic changes take place. The larva becomes lethargic, its body starts to 'bulk up' and contract in length and a loose cocoon is formed on the foliage. A new pupal 'shell' starts to form within the larval skin which eventually becomes dry and brittle, splits and sloughs off (known as the exuvia) to reveal a pale pupa (a mere 11mm in this case) already showing traces of wings and eyes.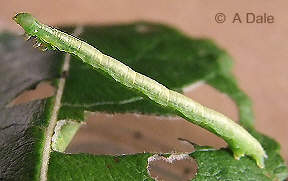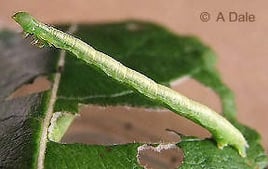 The larvae feed on a wide range of woody plants - sallow, birch, bramble, privet, hawthorn, and also on heather and docks. A mature caterpillar may reach 30mm in length and just as the adults are subject to colour variation, so too are the larvae, some having reddish brown markings.
Attracted to lighted window.
2nd generation attracted to lighted window.
Attracted to lighted window.
First of the 2nd generation pupae found.
1 moth emerged indoors from 2013 pupation.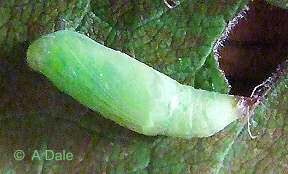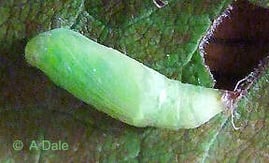 The first generation larvae will pupate for a few weeks on the foliage of the food plant. Whereas, the second generation pupae will fall to the ground with the autumn leaves and will overwinter in the leaf litter on the ground to hatch the following May/June.
2nd generation attracted to light.
1st generation attracted to light.
2nd generation attracted to light.
2nd generation larvae feeding.
1st generation attracted to light.
2nd generation attracted to light.
The Common Rustic and Lesser Common Rustic share many variations of colour and markings. Indeed it's only relatively recently that the Lesser Common Rustic was identified as a separate and distinct species. Since it takes microscopic examination to determine which is which, for the layman, naked eye identification is impossible and the only safe label to apply is 'Mesapamea secalis agg.', that is, one of the similar looking Common Rustic aggregate group.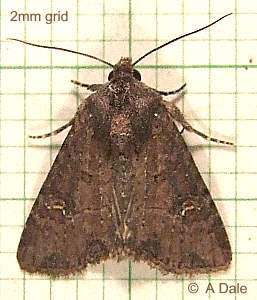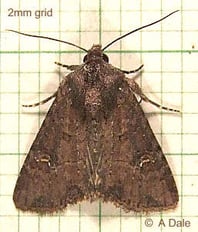 It is the general rule when recording species that in the absence of certainty then the subject should be deemed to belong to an aggregate group of similar looking specie named after the statistically most common member.
That said, the upper image is thought 'probably' to be of a Common Rustic.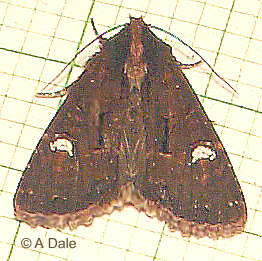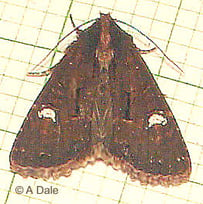 Their larvae feed inside the stems of grasses from September to May and pupate throughout June in underground cocoons.
The 'possible' Lesser Common Rustic flew indoors, attracted to light.
'Probable' Common Rustic attracted to light.
And the lower image, because of the chalky white kidney shaped marks and pale outer fringe on the wings, is thought 'possibly' to be of a Lesser Common Rustic.
But, in the absence of intrusive examination, neither identification can be considered certain.
Both species are considered common throughout the UK and produce only one generation per year, flying during the months of July and August. If a similar looking moth is found during the winter months, it will most likely be the Satellite moth, the following species.
'Probable' Common Rustic attracted to light.
'Probable' Common Rustic attracted to light.
...or Lesser Common Rustic moth
The Common Swift in the upper image is rather more strongly marked than the norm and the way that the moth behaved, staggering about in an uncertain way when found, might suggest that it had only recently emerged from pupation which could account for its crisp, pristine appearance.
Attracted to light but quite wobbly. Could be newly emerged.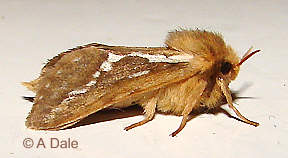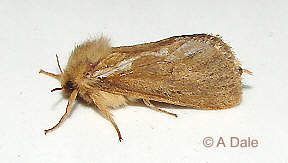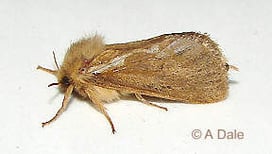 On the other hand, the second image is of a moth found three weeks later in the season so, that might suggest some fading through wear and tear - or, that it portrays a paler form with less prominent markings. The upper two images are both of males and serve to illustrate the variation in colour and markings.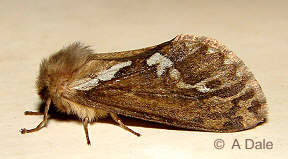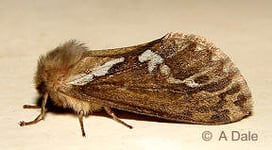 The larvae feed below ground on the roots of various grasses and herbaceous plants and are widely distributed in urban and rural areas. They may take two years to mature and will pupate underground. The adult moth, flying in May and June, therefore only represents about 8% of its full life cycle.
Found at rest on an outside door in early morning sunshine.
Attracted to light at about 10.00pm.
Attracted to light at midnight.
There are five UK species of Swift moths of which the Common Swift is the most common (!) It can be found flying from May to July. However, the Swift moths are quite primitive and have no means of feeding so, individual moths may well only survive a few weeks. Forewing length of the males varies between 11 to 16mm and for females, 15 to 20mm.
There are several Wainscot moths with overlapping variations of colour and markings. The Common Wainscot tends to be among the paler and plainer specimens - although exceptions do occur.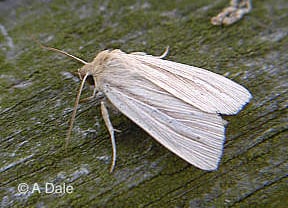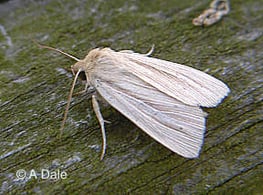 There are normally two generations in the south of England (June / July, August / October) and a single generation north of the Midlands (July / August).
The larvae feed on a range of grasses, typically Annual Meadow grass, Common Couch and Cocksfoot, which ensures good distribution throughout England. Further north it tends to be more localised but it has been recorded in Shetland.
Found early evening in grass paddock.
For me, the clue to the Common White Wave's identity lies in the continuous smooth curves of the crosslines on the wings. The slightly smaller Common Wave has a creamier appearance and less distinct crosslines. In other Wave species these lines tend to be irregular with bends and kinks.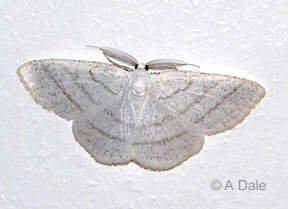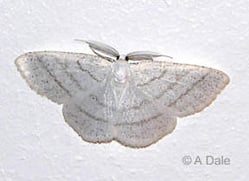 Although regarded as a two generation species in the south, May/June and July/August, the generations tend to merge and in some parts it is found from May to September.
I regard the specimen on the right, seen on the 3rd July, as a newly hatched 2nd generation moth on account of the pristine satin sheen on its wings. The feathered antennae indicate that it is a male.
The larvae feed on Silver Birc, Alder and Sallow.
Attracted to light and came to rest on ceiling.
That's not a moth - it's a wasp!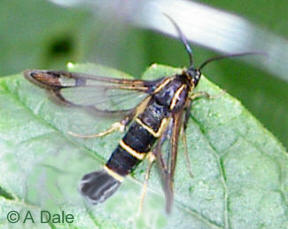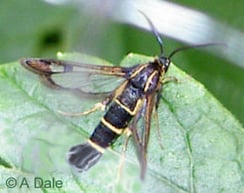 The larvae is considered to be a pest by fruit growers because between the months of August and May, it burrows into the soft pithy core of the stems of currant bushes.
The female has three yellow body rings whereas the male has four. The abdomen is terminated by a thick tuft of hairs which can form a shallow dihedral 'vee' shape. This particular moth had fringes of white hairs which accentuated the effect.
In the garden, on the blackcurrant bushes.
Despite its deceptive appearance, the Currant clearwing is a moth with only a few scales on its wings. It is quite small, only about 10mm long, and can be found flying between May and July around red and black currant bushes.