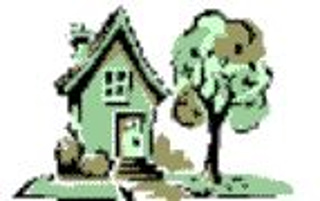 Macro moths: A-B
MACRO MOTHS
A moth as uniquely marked as this should, I would have thought, be seen more often than it is. It is classed as 'abundant everywhere' and can be found at all times of the year. Yet, prior to this sighting I had only ever seen one - and that was in broad daylight. On this occasion I saw ten within a range of five yards.
Back garden, ten supping juice from fallen apples late at night.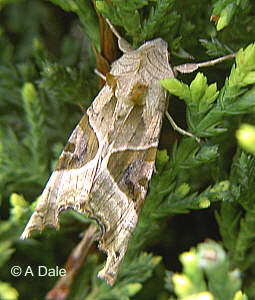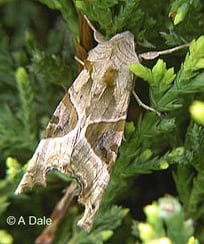 Basking in the sun on a cupressus hedge for six hours.
Larva found floating in water filled ditch was 'nursed' back to life.
Adult attracted to light on a miserable wet night.
Mature caterpillar found in ditch side vegetation.
Caterpillar retreated below soil level to pupate.
Moth emerged from pupation and released onto Docks.
Larva found on Dog's Mercury. Reared on Dog's Mercury and Dock but preferred the former. No diagonal stripes on abdomen.
Larva (above) retreated underground, spun silk cooon and pupated.
In the second image, two shoulder tufts of brown hair can just be seen which will help to break up the profile and contribute to the way it merges into the background.
It is thought there may be two generations based on peaks in their numbers during May - June and August - October. Just as the adults are found all year round, so are the larvae. These feed on a wide range of plants, nettle, docks, bramble, birch and oak.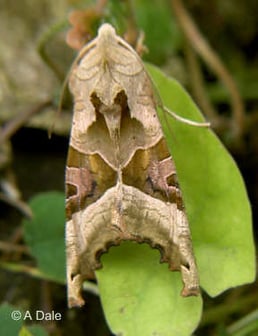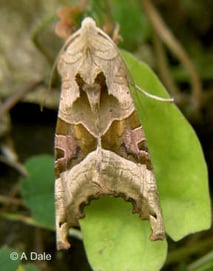 When at rest, unlike other moths, the wings are creased or wrinkled rather than flat open. This characteristic gives the impression that the moth has just hatched from pupation but must help to improve the camouflage when it is resting on bark or fallen leaves.
Although I am now finding them more regularly, I have yet to see one in flight. They seem quite prepared to rest motionless through the day, relying on their excellent camouflage to escape notice.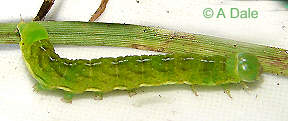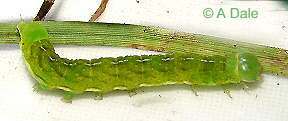 The first larval image is of an immature 26mm larva that was found floating in water at the bottom of a lank overgrown ditch early in November. When rescued from the very cold water it was quite limp and inactive but slowly recovered over a period of four days and was able to clamber around grass and nettle foliage. Its food of choice was Dock and a month later had grown to 34mm. It was observed to remain motionless throughout the day and only eat after dark. Unfortunately it did not survive pupation.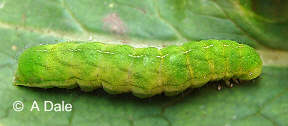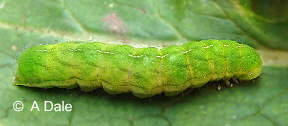 The larvae come in green and brown colour forms and 'plump' up considerably with maturity, as can be seen in the second larval image of a 38mm specimen found in July. This too, fed on Dock leaves and the image was taken during diapause (the dormant state just prior to pupation).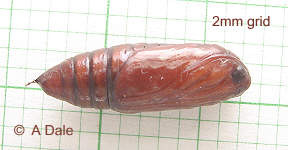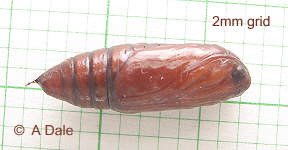 Pupation takes place in loose soil and in the case of this summer specimen lasted just four weeks. But, pupations will be influenced by ambient temperatures and may take longer. Late season caterpillars may even hibernate through the winter, continuing to feed during milder periods before pupating in March/April.
Moth (above) emerged from pupation and released onto Docks.
Moths attracted to light.
The unusual resting position of the Barred Straw always gives it an injured appearance. But, once you recognise it, it does make identification easier. The only other moth with a similar 'open wing, tail up' pose is its family relative, the Spinach moth.
The way that the inside edge of the rear wing curls upwards accentuates the raised abdomen and may help with mating pheromone dispersal. Forewing length can vary between 12 - 18mm.
On Ivy alongside Cleavers in Hawthorn hedge.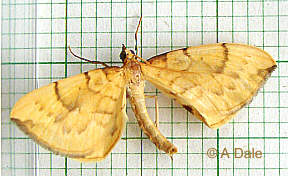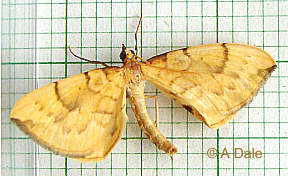 Attracted indoors by the bedroom light.
On grass at foot of Cleaver rich hedge.
The Barred Straw flies from June through to the end of August and, as with all the members of the Eulithis family, all eggs laid will remain as eggs through the winter, to hatch in April.
The larvae of this species feed on Cleavers, Galium aparine, and other bedstraws. Other Eulithis species have their own specific food plants.
On grass at foot of Cleaver rich hedge.
Attracted indoors by the bedroom light.
Characterised by what appears to be a continuous reddish line that runs from wing-tip to wing-tip across both upper and lower wings and continues round the trailing edges of the wings. (But not to be confused with the Small Blood-vein whose cross line originates from midway along the wing leading edge.) The general background colour of the wings range from a creamy grey to reddish brown.
The image is of a pristine second generation specimen. Worn individuals can look very bland and threadbare but the prominent line between the wing tips gives the clue to their identity. Forewing length can be 15 to 18mm.
Hay Meadow, western hedge.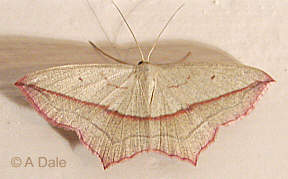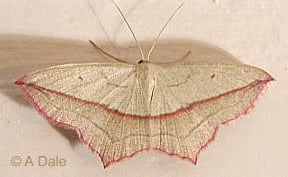 Usually double brooded, from May through to late summer, a third generation is possible in southern UK during August and September. The larvae will feed on dock, sorrel, knot-grass and goosefoot.
An adult second generation moth that I gathered up to photograph laid 18 white eggs before the photo shoot and I reared those through. During the next few days 15 of the eggs first became creamy before turning a rich pink colour.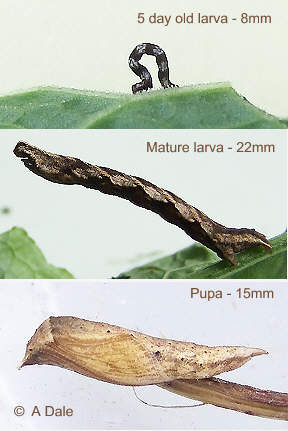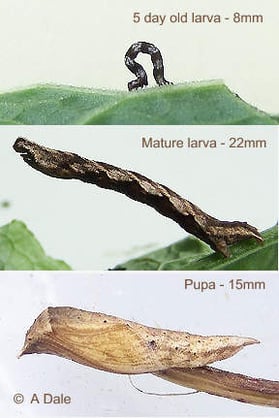 Strongly marked specimen seen at dusk in Hay Meadow, western hedge.
Within seven days the 15 viable pink eggs hatched and I thought I had lost them all until I found the tiny larvae dangling on thin strands of silk from the underside of erect Dock leaves. After a slow start the larvae developed healthy appetites and although 4 failed to survive the skin moults normal in most caterpillar development, 10 made it through to start pupatation after 14 days. The remaining slow starter eventually successfully pupated 7 days later.
By which time the main batch of ten were beginning to hatch into third generation adult moths and over a few days all were released and flew successfully. The remaining pupa eventually hatched two weeks later. The plump female was released at dusk and after resting for a few hours was seen to raise her abdomen, no doubt releasing pheromones to attract a male, and flew off at midnight.
3rd generation life cycle.
Blue-bordered Carpet moth
In the southern UK sub-species of the Blue-bordered Carpet (as seen here) the shape of the contrasting markings is usually quite uniform. However, the coloration is subject to some variation. The dark browns in the accompanying image can be a lively golden brown in some cases. And the 'blue border' along the trailing edge of the wings can be much more marked than is seen here.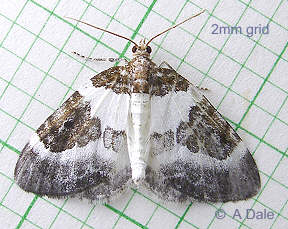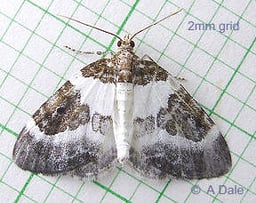 But, just to confuse things, there is a northern UK sub-species, P. r. plumbata that does not have the distinctive white markings.
The single generation flies from June to early August and occasionally comes to light.
It over winters as an egg and the larvae hatch in April to feed on a wide range of plants, Alder, Blackthorn, Hawthorn, Birch, Plum and Apple.
Bright-line Brown-eye moth
The Bright-line Brown-eye may be among the plainer moths but it is still quite distinctive.
'Bright-line' refers to the white cross line near the trailing edge of the wing which contrasts well with the dark brown background. Two other features to note are that the line does not quite reach the leading edge of the wing and that it forms a distinctive 'W' mark. And the 'Brown-eye' refers rather obviously to the reniform mark near the leading edge.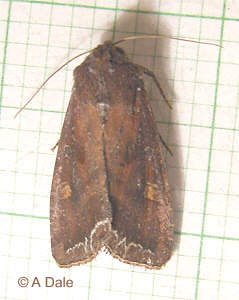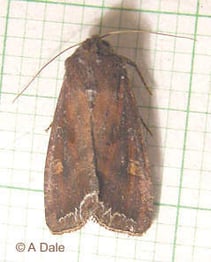 It flies May to July and is classed as 'abundant' throughout most of the UK but, I suspect that not many people pay much attention to 'plain brown' moths.
As befits a widespread resident, the larvae feed on a wide range of common plants including nettle, fat hen, willowherbs, St John's-worts - and even tomatoes. They normally feed at night and seek refuge in ground litter during the day. They over-winter as underground pupae.
Flew indoors attracted to light.
There can be two or three generations of Brimstones each year meaning that they can be found at any time between April and October. They range throughout the UK as far north as Orkney. The markings of this species are unmistakeable but, the colouring can vary. Young freshly emerged specimens can be an intense 'brimstone' yellow, while old worn moths can be quite drab with almost transparent wings where wing scales have been lost from fluttering through vegetation.
Found indoors at night, presumably attracted to light.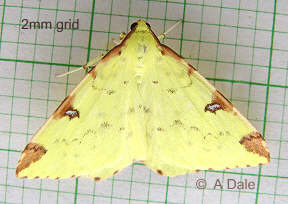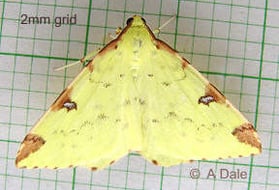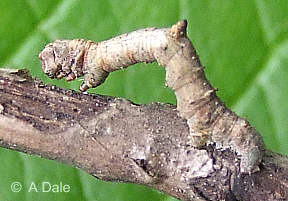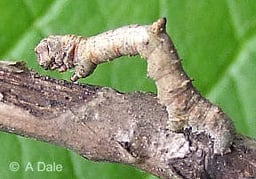 The larvae are of the thin 'looper' caterpillar type with the normal three pairs of thoracic legs at the front but only one pair of prolegs and a pair of 'claspers' at the rear. The larvae come in brown and green forms with a small spur or wart in the middle of the back. They feed on a variety of trees, Hawthorn, Blackthorn, Plum and Wayfaring trees, etc. and, in the absence of these in Orkney, will also feed on Rowan.
As seen in the first larva image, at rest, the larvae tend to hold on to a stem using only their prolegs and claspers, holding their body motionless, away from contact with the stem. This creates the illusion of a twig and is very effective camouflage. Also seen here are the enlarged third pair of thoracic legs that are a characteristic identification feature. This larva was only 12.5mm long when found quite by accident.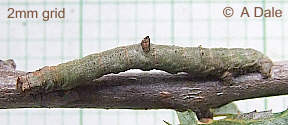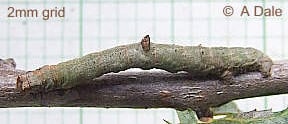 The bottom image, of the same caterpillar, was taken only ten days later, by which time it had grown to 28mm and had changed colour slightly. Shortly after, in early September, it entered pupation. In the wild it would have retreated to ground level but, I was able to see it construct a gauzy cocoon within which a remarkably small pupa formed.
Pupation continued with no signs of further development until the following May when the fully formed adult emerged and was released.
12.5mm larva found on Hawthorn.
Same larva now 28mm and about to pupate.
Adult emerged from pupation and released.
Adults seen regularly during this period.
Lone first of the season attracted to light.
Frequent visitors to light.
Broad-bordered Yellow Underwing moth
This is one of the easier moths to identify. There is virtually nothing else to confuse it with. It is a substantial moth, being 25 - 30mm long. It's conventional resting position is with the wings folded back so that the wing leading edges are virtually parallel and one wing will almost completely overlap the other. Colour ranges from pale to mid-brown with alternating pale and dark bands across the wing. The kidney and oval marks are lightly edged and are more easily seen in the darker specimens.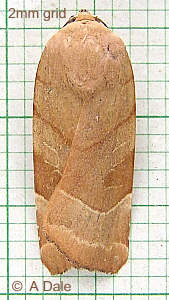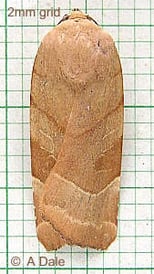 As the common name suggests the yellow underwing is edged with a broad black border and although I have never seen this when the moth is at rest, in flight this highly contrasting feature readily catches the eye.
When it hatches from pupation in July, the moth tends to hide away for about a month before it becomes truly actve and then flies during August and September when it will come to light. Its most common habitat is woodland and other leafy areas throughout mainland Britain as far north as Invernesshire.
Like other Yellow Underwing species the larvae seem to have two distinct choices of diet, feeding on nettles, docks and other herbaceous plants in the autumn and switching to shrubs in the springtime before pupating underground in May.
The Brown Rustic is subject to some variation in colour and intensity of markings and, particularly with the darker forms, it can sometimes be quite difficult to see the distinguishing features.
Attracted to light indoors.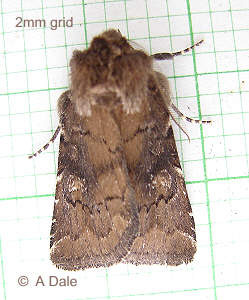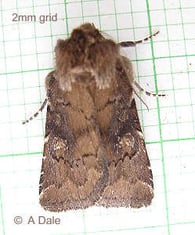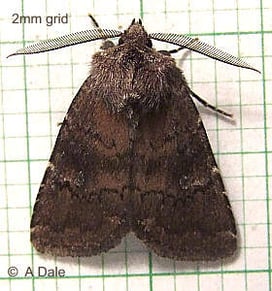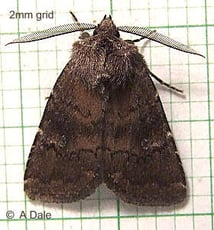 The single generation generally fly in June and July although I have seen solitary individuals turn up in mid-May. The males especially, are attracted to light, and are often seen at lit windows.
The male in the second image (forewing length 16 - 18mm) sports prominent feathered antennae, and is larger than the female which is usually less well marked and can sometimes be confusingly difficult to identify.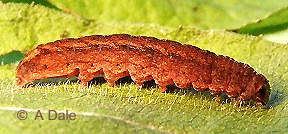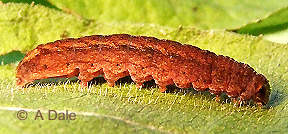 From August through to April/May the larvae will feed at night on a wide range of plants including vetches, plantains and docks. They tend to be shy and secretive, feeding close to the ground and are consequently not often seen.
Some will over-winter as larvae sheltering from the worst of the winter weather beneath their food plants. Having grown to about 30mm, pupation will take place in an underground cocoon.
Attracted to a lighted window.
Attracted to light indoors.
Attracted to light indoors.
The upper image shows the two thin dark cross lines and the series of white dots on the leading edge of the wing that are constant and show up rather better in enlarged images than they would appear to the naked eye.
The helpful identifying features of the Brown-spot Pinion are the five intensely black marks on the leading edge of the forewing - four spots and a dash. The background brown colour of the wing can vary from a reddish tint through purple to grey.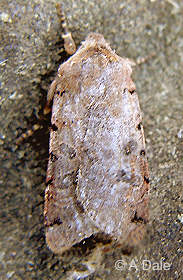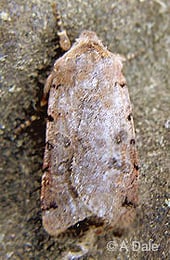 The single generation flies from late August to October and will sup Ivy flower nectar and ripe fruit juices. Eggs laid in the autumn will overwinter and larvae will hatch in April.
The larvae feed at night on Meadowsweet, Sorrel, Bladder Campion and Hawthorn.
The species is common throughout the UK with the exception of the far north of Scotland.
The Buff Arches moth is regarded as a mainly southern species in the UK. It becomes less common in the north of England and is classified as rare in Scotland. The single generation is on the wing from June through to August but late individuals do occur in the autumn.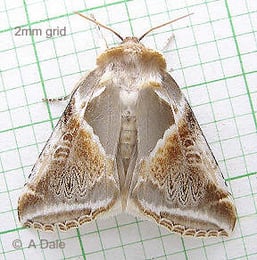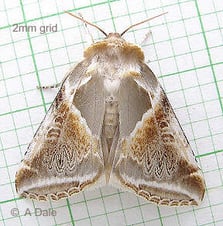 With a forewing length of up to 20mm (this crisp late summer specimen was 18mm), it is a medium sized moth but there is no denying that it is an eyecatching one. The wing colouring creates an almost 3D effect and there is simply no other species to confuse it with.
Adults attracted to light.
Adults attracted to light.
The larvae are to be found, late July to October, mainly on bramble growing in the shelter of hedges and trees. It then over-winters as a pupa underground.
This is one of the easier moths to identify. There are only three other species with which it might be confused and they do not carry the strong inverted Vee markings.
It is regarded as common throughout the UK (with the exception of the Shetland Isles) and the adults fly generally from mid-May to mid-July - although a second generation may be found in the south from September to October.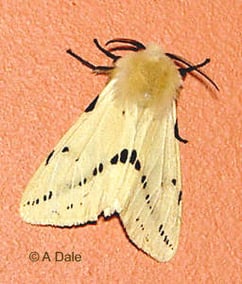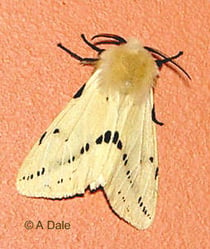 The larvae feed on a wide range of plants including stinging nettles and docks. They then pupate over winter in loose leaf and plant litter.
Attracted to light at back door.
The male (with feathered antennae) as shown here was attracted to light late at night and flew in through an open door - only to be unceremoniously 'shown the door' again after his photo shoot.
The Buff-tip moth is a large moth, the female can have a forewing length of up to 34mm, and is so named because of the prominent buff coloured markings at the end of the wings and also the front of the head. It is not likely to be confused with any other moth. Although the markings may appear striking against a plain background, in natural surroundings it can easily be mistaken as a short piece of broken twig - the pale grey shading looking remarkably like lichen.
Eight 50mm larvae found on Goat Willow at Benniworth conservation area.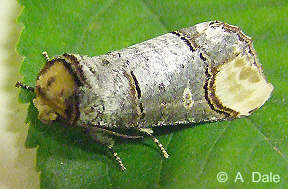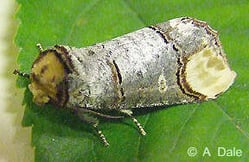 The single generation generally fly in June and July although I have seen solitary individuals turn up in mid-May. The males especially, are attracted to light, and are often seen at lit windows.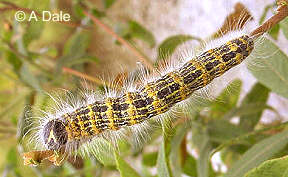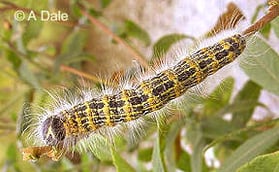 The larvae, which can grow to 75mm (!), feed on a wide range of tree foliage. Seeming to prefer the sallow willows, they are also found on birches, oaks, hazel, alder, beech, etc.
The larvae hatch from large groups of eggs and initially feed communally, often stripping branches bare, before going off to forage singly. When mature they will pupate underground throughout the winter.
Moth attracted to light at the Chambers Farm Wood nature reserve.
The Burnished Brass is a spectacular moth with a metalic sheen on it's wings that reflects light in a mirror-like way. This can cause the same moth to look quite different when seen in light or shade. And as the moth ages so the effect tends to fade.
Two generations attracted to lighted window.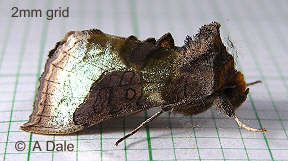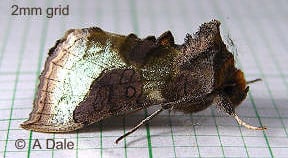 It is quite a common moth and is frequently seen throughout mainland Britain during June and July. In the south a second generation may extend the flight window into August and September.
It tends to fly early in the evening, feeding on nectar from Honeysuckle and Buddleias and later into the night it can be attracted to light.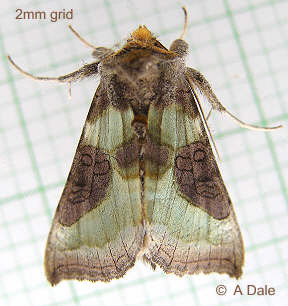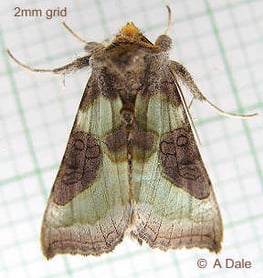 The larvae feed on common Stinging Nettle, White Dead Nettle and Spear Thistle and will overwinter low down on the foodplant. With the emergence of new growth in the spring the caterpillars will resume feeding and, when mature, will pupate in a cocoon on the underside of a leaf.
Two other family members, the Slender Burnished Brass and the Scarce Burnished Brass are less common and not as spectacular.
Two generations attracted to lighted window.
Two generations attracted to lighted window.
Two generations attracted to lighted window.
Two generations attracted to lighted window.
Two generations attracted to lighted window.
Two generations attracted to lighted window.