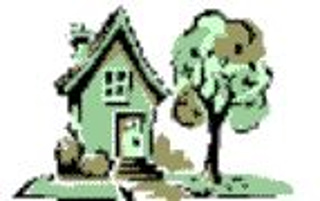 The Ichneumons are parasitic insects within the diverse Order of Hymenoptera - diverse because it embraces sawflies, ants, bees and wasps. Ichneumons are often commonly referred to as wasps or flies.
Attracted to light at backdoor.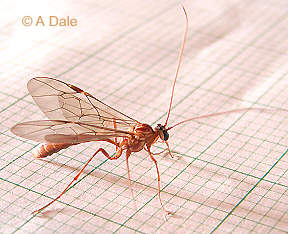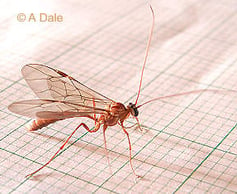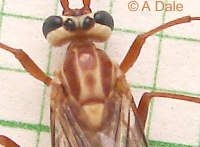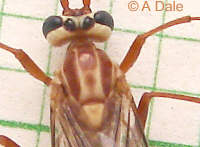 Ophion obscuratus can be identified by the pale corners of the 'stigma' (the dark mark on the leading edge of the forewing) and the distinctive pale marks on the top of the thorax (lower image).
Members of the Ophion, and the similar looking Netelia genera, lay their eggs in the caterpillars of various Noctuid moths. Because of this, the females have no need for the long (often dangerous looking) ovipositors which many of the other Ichneumons need to reach deep seated wood boring larvae.
Attracted to light at backdoor.
There are several species within the Ophion genera that look very similar and identification in the field can be difficult. When viewed from above they have a long narrow reddish brown body but from a side view, the thin curved waist broadens out to a deep abdominal region. When positive identification is not possible, species are referred to as Ophion agg (indicating that they are members of the larger aggregate generic group).
The vast majority of Ichneumon species can be very difficult to positively identify by sight alone. Microscopic examination is usually required for positive determination.
Quietly sunning itself on a gate post.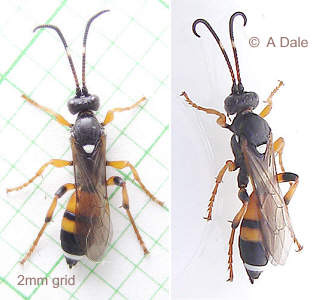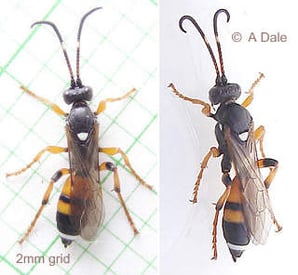 This is one of the exceptions. It has a unique combination of leg markings (left image), thorax and abdomen markings and wing venation (right image). Furthermore, the tip of the abdomen shows that this is a female. The male is slightly larger than the 12mm female and has slightly different markings.
Most ichneumon species are 'endoparasitic', ie, their eggs are laid on and develop in the larvae of other insects. This species parasitises the caterpillars of certain noctuid moths.
Ichneumon suspiciosus agg.
Like many Ichneumon species, this is a member of an aggregate group of very similar looking species (hence the 'agg.' suffix) that cannot be definitively identified without recourse to close microscopic scrutiny.
The yellow and black banded antennae and legs and an overall length of 15mm (excluding antennae) suggests that it might possibly be Ich. suspiciosus - or something similar!
Found on Salix caprea tree.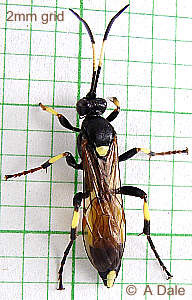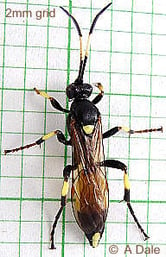 It is an endoparasite of moth larvae. That is, the adult female ichneumon inserts an egg under the skin of a caterpillar and the resultant wasp larva will slowly develop internally within the caterpillar until the caterpillar enters pupation. The parasite will then enter its own pupation and, on completion of its metamorphosis, will be the sole adult insect to emerge.
This will take place in summer or autumn and the emergent adult will hibernate throughout the winter to fly again in spring coincident with the emegence of adult moths and the next generation of their caterpillars.